Prospecting, lead generation, sales – nobody set out to spend time doing these things when they first went into business but if you don't do these today – you will have a quiet and poor future. Period.
So I was having lunch with a friend yesterday who runs a London social media agency – essentially they get paid a monthly fee for looking after brand social media accounts. Now naturally they also offer SEO services and content writing services to compliment their core social media management offering.
So any reasonable personas approach to building new business would be to look at similar businesses they currently service then take a look at their current social media channels.
Do they have any social media accounts?
Are they using the correct vanity URL?
Is their branding and logo uploaded and does it look good?
Is their contact info, offering etc clearly displayed?
Does it look like they are active on these channels e.g. last 7 days?
Does it look like they have a content strategy or random weird posts?!
Do they have more than fans than followers?
Are they strategically following a certain group of people?
I could go on and on e.g. does their blog content get shared via their social media channels. Anyway you build up a prospect list of companies who would clearly need your services.
Lets take a look at a prospect for my friends company:
So I ask him to pick one of his current clients as a starting point. Taxis. He said taxi firms in the UK are under real pressure to get social especially from the threat of app taxi companies like Uber taking over an industry that usually has relied upon opportunity and telephone than mobile apps and technology. Also his current taxi customer has been his longest and most loyal customer and his social media campaign has helped the taxi company grow year on year since using the service – awesome!
So we pick some taxi companies in London using Google. Here is my first one: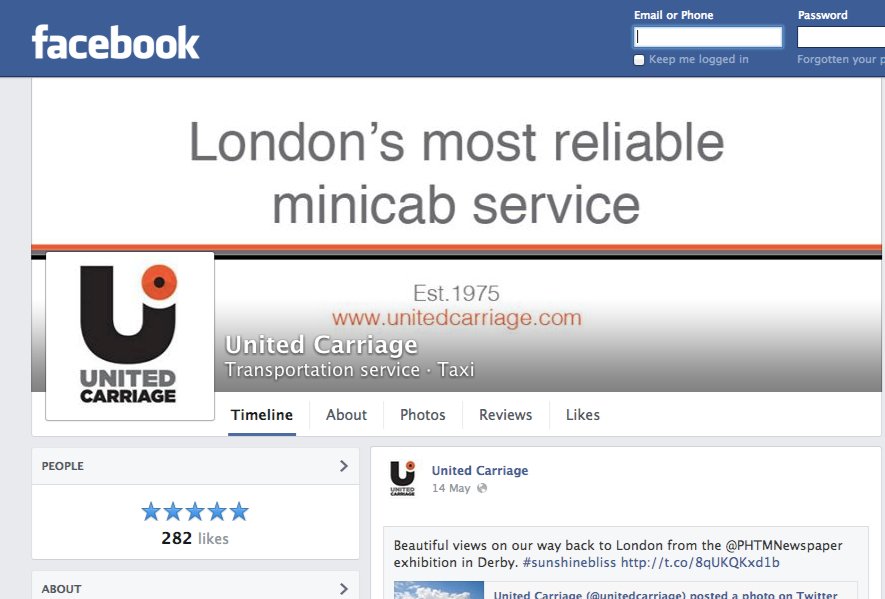 Nice clean design and straight away I see they are using social media and have 3 accounts proudly displayed at the top of their homepage. A quick look and I see this firm as a perfect prospect:
1. Facebook last updated in May
2. 282 Likes – not bad but could be better
3. Twitter last updated also in May
4. Only 17 followers versus 29 following
5. Twitter branding could be better
6. YouTube – no videos, no branding – nothing! No point having the link up!
7. They have a fantastic stat page about famous people who have travelled in their cabs etc that they could push via social media
Then using the super awesome fast ninja service at Get Prospects we were able to:
A. See that the website currently ranks for 0 keywords – so huge opportunity here
B. We researched the director and verified his email address
Wamiq Mirza
wamiq@unitedcarriage.com
Now you could spend your Saturday doing this or you could just sign up for the Get Prospects service and let them build you a list of prospects each week. Start today and have a wealthy future!